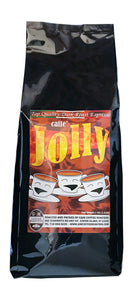 Caffe Jolly - 1kg. or 1lb.
$1350

$13.50

Save $-13.50
---
---
This espresso provides a robust kick to the taste buds, minus any lingering bitterness. Crafted with 100% Arabica beans and absolutely no additives, fillers, or added oils, our signature Dark Roast is roasted and sealed to perfection at our facility in Staten Island, NY.
Caffe Jolly
I'm buying "Caffe Jolly" for more than 5 years and it's one of the best I ever have.
For last 3-4 years I'm buying "Caffe Jolly" from G&M COFFEE ROASTER, INC and never had any problem with this company. They always ship on time.
Best espresso
Family favorite! We have family in from Italy and they not only approved of our choice in this espresso, but asked us to get them some beans!